YHZS60 mobile concrete batching plant install in Philippines
After delivered in May 2017, another YHZS60 mobile concrete batching plant exported to Davao, Philippines, and it is installed at the work site today! This is the second order from Philippines in May. So we can proud to say Haomei machinery has made contribution to Philippines construction, and we are eager to help more customers to complete their projects with high efficiency, low cost and environment protection by Haomei concrete batching plants.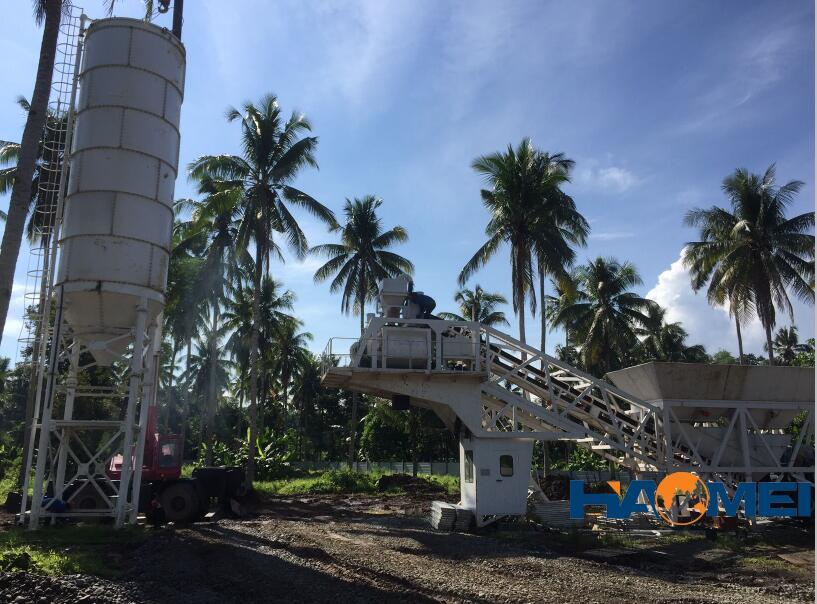 Why do Haomei concrete batching plants so popular in Philippines market? After visiting our factory and inspect our machine, you can find the answer. Take YHZS60 as an example, with high mechanization and automatic degree, high capacity, quality of concrete guaranteed, Haomei YHZS60 mobile concrete batching plant is outstanding in the market, and that is exactly why so many customers from Philippines order our products once they know them well.
YHZS mobile concrete batching plants adopt compact structure and complete function with storing, weighing, transporting, mixing and control system. Due to the special structure, YHZS 60 mobile concrete batching plant can be moved conveniently. As we provide professional install guidance, our mobile concrete batching plant is able to install easily in several days, which can saving time, energy and cost for you. In general, we not only can provide qualified concrete batching plant, but also problem solver to you, what you need is what we focus on. So, do not hesitate any more, any question or more details about our product, you can contact our staff by e-mail or phone, we will give you satisfied reply as soon as possible.